Transition2 and Rolls-Royce – a working partnership
Transition2 and Rolls-Royce had the pleasure of working together again to transform an overgrown area in the grounds at College. The team consisted of 20 Rolls-Royce employees, several Transition2 learners and staff. The team worked closely over the course of two days, putting their skills, funding and labour to excellent use in constructing a poly-tunnel, potting table and staging area.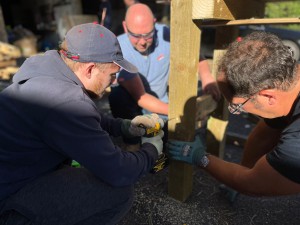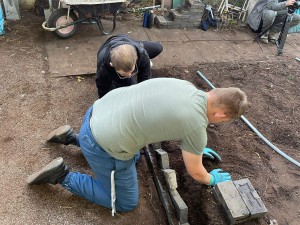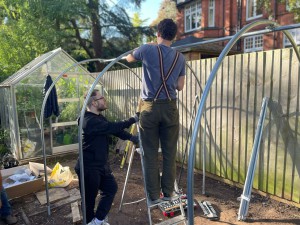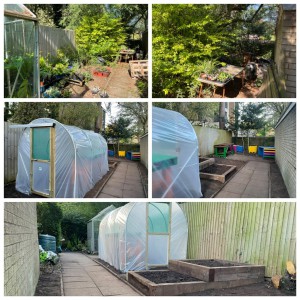 Simon Hancox, Transition2 Deputy Head of Service: "The Rolls-Royce team were a real joy to work with. They used their problem solving, design and engineering skills to totally transform a disused outdoors space during the course of the two day project. The team members took time to get to know and work with our learners, creating and nurturing several opportunities for meaningful, work-based learning activities around the site. T2 learners popped on their boots, rolled up their sleeves and showed a real desire to work alongside the Rolls-Royce team in a grown up way throughout the two days".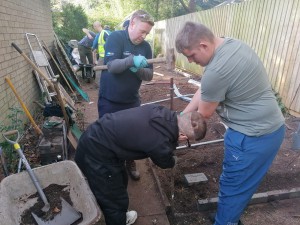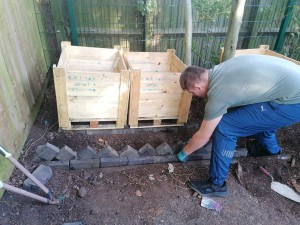 Several learners used the opportunity to bring out their creative side by helping to construct and paint potting tables in a choice of designs and colours, and meticulously installing some brick edging around the path. The event also offered an excellent opportunity for our learners to develop and showcase their catering and hospitality skills by planning and preparing a buffet lunch for everyone at College over the two day project. Learners, staff and the Rolls-Royce team all shared their buffet lunch together in the main hall. The interaction between Rolls-Royce volunteers, learners and staff over lunch was really wonderful to see. This exciting installation will also help College learners develop a better understanding of the natural world lifecycle from 'seed to plate' and will align nicely into the 'Green Skills' College curriculum, furthering our commitment to the national eco agenda and sustainability. The addition of a poly-tunnel to site will provide T2 learners with opportunities to develop a year-round 'green growing plan', supporting learners to grow and sell plants, fruits, vegetables and flowers at in-house seasonal fairs and at local community projects. The poly-tunnel will also present T2 learners with opportunities to use College grown herbs, fruits and vegetables during meal prep sessions, further enhancing and maximising their independent living skills.
Links to films of day one and day two of the project can be found here:
Day one – Rolls-Royce and Transition2 Autumn Polytunnel Project
Day two – Rolls-Royce and Transition2 Autumn Polytunnel Project